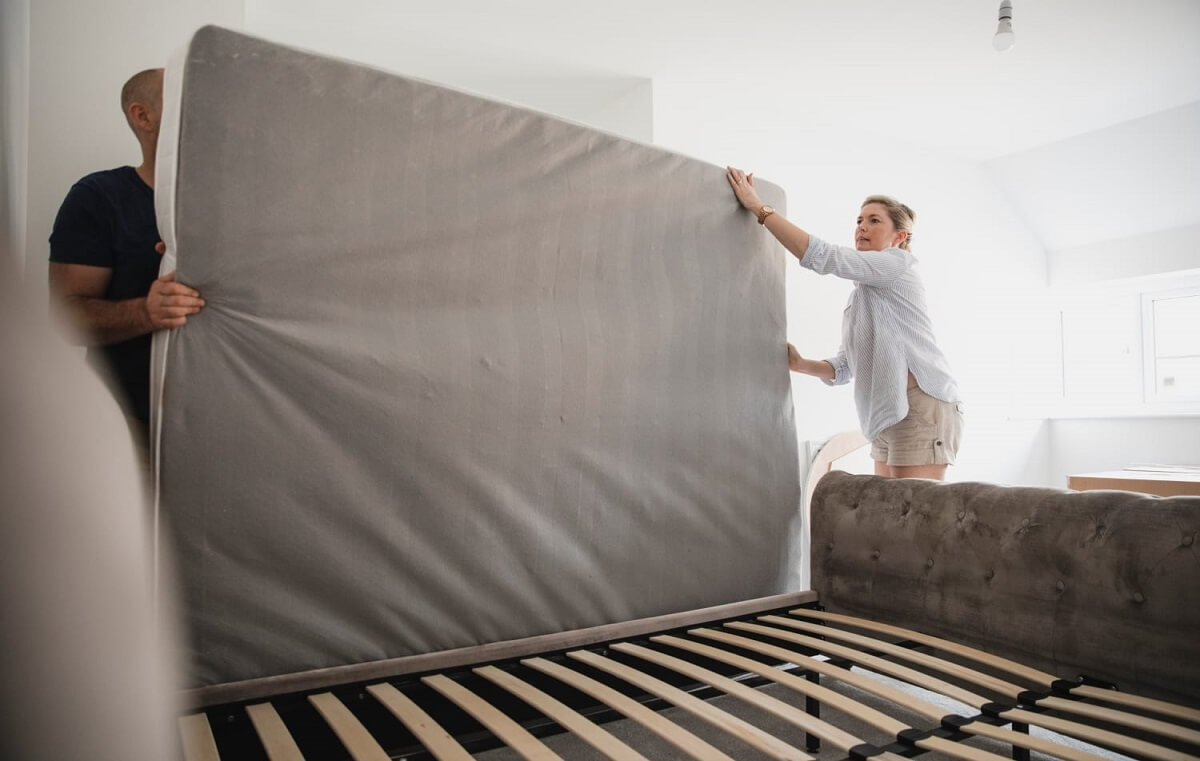 Sydney Movers Packers are the best bed movers in Sydney, who will dismantle, pack and transport your bed to the desired location. Here at us, you will find the most professional and skillful removalists who make the process of removal or disposal of your bed easy and convenient. From safe and efficient delivery or removal of your bed to professional disposal, we have you covered.
We provide a particular service and customize work according to your needs and requirements. If you need a hand removing parts of your bed frame, count me in! I'm pretty handy and can assist with that task too. Or, we can dispose of the old mattress for you and help you get the new mattress at your doorsteps. We are just one call away! Moving a mattress/bed can be a complicated task if not handled properly. But with the right tools and experienced removalists, we make it seem very easy and convenient. You might find lots and lots of moving companies in Sydney, but a company like ours will provide you with the best and secure service at affordable rates, which is not very easy to find.
I'm here and ready to help with whatever you need! Our team of bed movers Sydney takes great care and handles your bed with professionalism, ensuring it reaches your desired spot without any hassle. We tailor our services to fit your needs, guaranteeing the best experience for bed and mattress removal.
While shifting, hundreds of things need professional hands as these things can be delicate or heavy, like a bed, a bed is a massive item that is heavy. To transfer a bed, it needs professional hands and proper tools. If not handled professionally, moving can turn into a disaster, damage your belongings and cause injury to you. That is why we are providing complete service from the beginning until the end of the move, where it requires your most minor contribution to enjoy the process of moving. And, this is what makes us the most convenient and reliable service in the whole of Sydney!
What Do Our Bed And Mattress Removals Sydney Team Have To Offer?
We have been working in this business for several years now to know what the customers need, and we are succeeding in providing the same with consistent efforts and professionalism. Our services are reliable and efficient. And, we work towards meeting these factors at affordable rates for your smooth moving process.
We are a one place solution for you as we have curated all the services you might need from a removalist, and we also customise our services based on your requirements!
These services include:
1. Delivery Of The New Bed Or Mattress:
When ordering a bed from a store, you must need our services to deliver your new bed to your home safely. Most furniture stores also provide the delivery service but are not very reliable as they are not specialised in the service. So, hiring a removalist like us is something which delivers your belongings with safety and efficiency is essential. After all, you don't want belongings to get damaged before even landing at your house, and our bed and mattress removal experts in Sydney will ensure the safety of your belongings.
2. Bed Removals Service:
If you're thinking of moving your house, it's best to contact Sydney Movers Packers as things like a bed and other heavy items are hard to handle and need extra care. Our bed movers Sydney move your bed with proper packaging and methods.
3. Old Bed Removals Service:
While removing a bed, it's essential to do the particular thing and see if the other things are not getting damaged by getting in the way. If your bed feels like an old one now and doesn't feel comfortable anymore and you want to replace it, you can contact us for safe and clean removal. We do everything with proper vision and planning for delivering top-notch removal of your bed.
4. Bed And Mattress Disposal Service:
It's pretty cool how lots of beds and mattresses nowadays are made from stuff that can be recycled. When your bed and mattress are no good anymore, take them to a recycling center—They'll do it properly. And if they're still good but you want to let them go, we can assist in selling them easily to someone else.
Why Hire Our Bed Movers In Sydney?
Most people believe that hiring professional mattress removals experts is a waste of money and not much necessary to relocate it with the help of any moving company. But the fact is, if they choose a skilled bed removals team to relocate their bed and mattress to the new house, they can save themselves from unexpected injuries, the trouble of moving and lifting, liabilities, and uncertainty. We provide every such service that makes your mattress moving service reliable and convenient. Because one wrong step can ruin your whole excitement of moving. Whether you want to shift your bed downstairs or upstairs or to the local area of Sydney or its interstate, remember Sydney Movers Packers are just a call away from you! Most important reasons behind choosing our experienced Sydney mattress removals team for your relocation process.
1. Dismantling And Premium Packing Services
Moving a double or queen-sized bed would be a mind-freaking task for those moving their house or shifting their furniture for the first time. It is necessary to take help from the specialists of moving to Sydney. Our expert bed movers Sydney team is experienced in dismantling beds efficiently with the proper technique. We use all relevant tools to open the bolts and nuts of the bed safely. Our master packing team packs the bed frame with bubble wrap and plastic sheets to protect it from damage and scratches. They will make everything ready to move in the safest possible manner so that no damage will occur during the transit.
The tools we use to disassemble your bed are - pliers, adjustable wrench, Allen wrench or hex key, screwdriver, rubber mallet or small hammer. We keep all the screws in a labelled plastic bag safely to easily access it at the time of assembling.
2. Safe Loading And Transportation
Sydney Movers Packers have the best technology equipped vehicles available for all types of relocation needs. We provide both hydraulic lift trucks and vans for safe loading and unloading of the bed. For example, a truck is best for the safe moving of a king-size bed. All our drivers are certified and well experienced in transporting large and heavy furniture regularly. They load all the packed parts of the dismantled bed correctly with the help of moving dollies. They load it and unload, unpack it, and reassemble it safely at the destination place.
3. Comprehensive Moving Insurance
We offer complete moving insurance on everything that our Sydney removalists move. Comprehensive moving insurance means that if anything goes wrong, the client will not be liable for it; the company will compensate for the damage during relocation. But need not worry about anything, our bed movers Sydney team is well-trained and skilled in moving and shifting bed and furniture very smoothly without causing any issues.
4. Cost-Effectiveness
The most important reason behind being the top-rated and most chosen mattress removals services in Sydney is our best mattress moving service at very affordable rates. We eliminated the myth of people that mattress moving services are expensive. We offer free and flexible quotes and pre-move surveys for the best estimation. Serve custom services and many offers and discounts on various removalists services. You have to call us and then leave your stress and pain of bed removal to us. You don't need to purchase anything extra; we will bring our packing material, tools and equipment. We want to give advanced moving services at meager rates so that everyone can afford removalists in Sydney for the safe and smooth relocation of their belongings.
5. Instant Booking And 24*7 Availability
Sydney Movers Packers are always available for their customers. We take short time-period notice and bookings because taking help from the expert bed movers Sydney could be an instant decision and necessity for many people. Our movers provide you with a hassle-free bed and furniture moving experience; they coordinate and manage each aspect of the relocation process so that you can get more time to look upon many other essential things. Whenever you need the best and affordable moving services, call 1800 865 005, our customer care is always ready to handle and manage all your issues.
Why Are Our Bed Movers Better Than Other Removalists In Sydney?
1. Dismantling And Reassembling Services
Moving your house can be very hectic when doing it on your own. That's why you need a professional service to move your belongings from one place to another. Our expert bed movers Sydney team is specialised in the service and have all the necessary tools for dismantling and reassembling your bed.
2. Top-Quality Packaging Material
For moving a bed safely and conveniently, it's essential to pack it in good quality packaging to avoid any transit damage. After dismantling your bed, our bed movers pack every part of your bed in secured boxes and plastic packing to protect it from any scratch and damage.
3. Moving Insurance
With all the other top-class services, we are also providing you with moving insurance for your peace of mind. We provide comprehensive moving insurance, which means that our company will provide for the same if any damage occurs to anything in the relocation process.
4. 24*7 Open For Service:
Sydney movers packers are always available for you whenever you need our services. We provide instant service on the day of moving itself. We know sometimes the decisions take place all of a sudden, we make sure to assist and provide you with the service in these scenarios.
5. Competitive Rates
One of the reasons why we are the top removalists company in Sydney is our competitive rates. Usually, people think that moving services will cost you a fortune which can be true if you do not choose the exemplary service you'll get with us. We thrive on meeting various important factors with affordable rates for the best moving experience.